Direct Marketing Services
PTM has been a leading supplier of direct marketing services to the Canadian healthcare industry for three decades. The One Source headquarters in Markham hosts full service print, lettershop and fulfillment departments, all within a Health Canada licensed facility. Licenses held include:
Health Canada Drug Establishment License
Medical Device License
This allows PTM to handle Rx samples, medical devices, OTC and other products as part of specialized fulfillment programs, while meeting GMP standards for storage, inventory control, training and logistics.
PTM's team of direct marketing professionals have extensive expertise in executing diverse programs. Each member works with clients on program development, customization and implementation, while efficiently meeting budget and time constraints. In addition to expert project management, they also provide clients with:
Target audience consultation
Channel selection
Print and digital options/requirements
Health Canada and Canada Post guidance
Translation services
PAAB approval support
This One Source approach ensures all projects are seamlessly integrated, from start to finish.
PRINT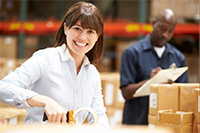 The print department utilizes state of the art personalization technology with variable text messages and a range of other printing capabilities.
LETTERSHOP
The onsite lettershop provides automated handling of simple to complex mailings at one location and a complete range of packaging options (e.g. polybagging, shrink wrapping, etc.).
FULFILLMENT
PTM's diverse fulfillment programs are executed onsite with stringent Health Canada controls. These programs involve the following services:
Inventory management
Packing
Shipment and tracking
Backend logistics and support
Reporting
Each direct marketing program is developed to meet specific client objectives, while delivering cost effective production and distribution of client products/materials.